Quake Death maps
A long time ago, in a room far far away, I wrote 28 deathmatch maps for Quake. Some were good, some were bad, some were great - but after making so many of them I was definitely out of ideas for more.
Time passes...
Not quite such a long time ago, but still in the same room far far away, Walnut Creek 1997 Quake Toolkit deleted 90% of those maps, along with their source. Still out of touch with my mapping side, I could only pick up the pieces and flail around trying to rebuild some of the maps. It didn't go so well.
Time passes...
Fairly recently, in a room very close to this one, I rediscovered a Reaper bot savegame from JDM14, my favourite level, and one of the 23 that were lost. After a bit of reminiscing, I'd managed to recreate the level in its entirety, using the waypoints left behind by the bot and the remnants of the level entities.
Time passes...
Now with several new sources of inspiration, I appear to be back on track with my map making.
Apart from my chronic procrastination, that is.
---
---
JDM - "Choice of Death"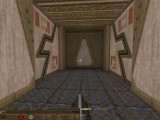 A reconstruction of 'jdm', the hub type selection level I made to provide access to the levels. The reconstruction is considerably different though, to reflect that the original has been destroyed - hence all the collapsed passages. You may need to search around a bit to find all the level teleports.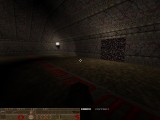 My first multi-style map; one room in 'base' style, one in dark/gothic, a cave network, a colourful multi-colour room, and a small helping of wind tunnels and moving platforms. Small map, no more than 8 players max I'd say.
As the name suggests, a map based around a castle. Rather sparse though, and the ability to lock people outside the castle may not be welcomed ;-)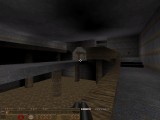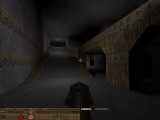 A very large level, again (roughly) based around a castle. The main features are the 3 tier maze and gigantic moat.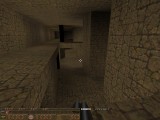 A reconstructed level, based around my own memories of it and a 6 year old reaper bot savegame. Very large multi-style maze, and my favourite level by far. Best feature was the base style warehouse area at the top of the level, which featured modified floor tile textures to add yellow lines in order to lay out the roadways the forklifts would use.
A small and simple level, made in under 45 minutes as a semi-challenge set by a friend. 4 rooms arranged around a pool of lava with the Quad in the middle.
The 'last level', again a multi style one since I enjoy them so much. Also contains more custom textures then any other of my levels, but the design didn't work out as well as I'd hoped.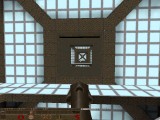 Ever seen the film Cube? See also: HL2 singleplayer variant